---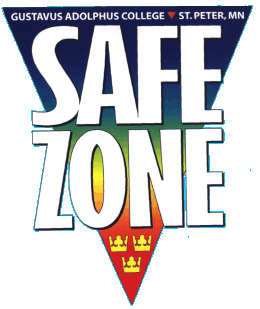 Gustavus Adolphus College
800 West College Avenue
St Peter MN 56082
In affiliation with:
Open Voices
&
Peer Assistants
---
---
---
The Safe Zone Goal:
This program's goal is to provide a more supportive and comfortable environment for gay, lesbian, bisexual, and transgendered persons, and those in the process of defining their sexuality by identifying individuals who can provide support, information, and a safe space within the Gustavus community.
---
Objectives of the Safe Zone Program:
Identify and form a network of persons within the Gustavus community who are understanding and knowledgeable about GLBT issues and concerns.
Provide evidence of that support through the display of a sign as a visible symbol.
Work to reduce social ostracism, discrimination, and physical harm of GLBT persons within the Gustavus community.
Foster greater self-esteem, pride, and visibility for GLBT individuals
---
Members of the Safe Zone program are:
Faculty, Staff, Administration, Collegiate Fellows, and Peer Assistants
Heterosexual, lesbian, gay, bisexual, transgendered, and others
Aware, knowledgeable, and supportive of GLBT issues and concerns
People possessing the skills to be an active ally
Informed and aware of GLBT resources
Respectful of confidentiality
---
Identifying Safe Zone members:
Safe Zone members are given a sign depicting the symbol on this page to designate their safe space. You may request a list of Safe Zone members by contacting Open Voices, the Peer Assistants, or the Counseling Center.
Also on campus are people who have not gone through the Safe Zone training, but who have identified themselves as supportive of GLBT issues with a simple rainbow flag.
---
To become a member:
Members of the Safe Space program are asked to attend a training session and state their commitment to being a supporter of the GLBT community. If you are interested in becoming a member, please contact Open Voices, the Peer Assistants, or the Counseling Center.
---
Resources:
On Campus:
Safe Zone Committee
Staff Advisor: Deirdre Rosenfeld
(507)-933-7559

Peer Assistants
Advisor: Judy Douglas
(507)-933-7607

Open Voices
Advisor: Phil Voight
(507)-933-7369
Email List: glb-network@gac.edu

Advising/Counseling Center
(507)-933-7027


Off Campus:
PFLAG Mankato
(507)-526-3173

PFLAG Twin Cities
(612)-825-1660

District 202
2524 Nicollet Ave S
Minneapolis MN 55404
(612)-871-5559

Outfront Minnesota
310 38th St E Suite 204
Minneapolis MN 55409
(612)-822-0127
1-800-800-0350
outfront@outfront.org

Alliance for Justice
PO Box 124
Mankato MN 56082
(507)-625-7532

24 Hour Crisis Line
1-888-989-5223

---
---
---
Email any corrections, etc. to Travis Nygard (tnygard@gac.edu)